The brand of your company has the same meaning to consumers that your character or personality has to your family and friends. Your logo is like your face. When someone sees your face, they recognize who you are, and they expect you to behave in the way that you always have before. Odd or uncharacteristic behaviour will be surprising and potentially off-putting or even offensive. That's when your friends start to avoid you. In similar fashion, if your brand doesn't live up to expectations, you're going to lose customers.
So although your brand is much more than a logo, your "visual identity" is an important aspect. Most visual identities are comprised of either:
an icon and stylized name presentation, such as Heidi Klein;
a stylized name presentation only, such as the one we created for Lori Johnson Photography; or,
an integrated icon and stylized presentation, like the one we did for Western Locksmith Supply.
The type of logo or wordmark you choose will depend on a number of different factors discussed below, as well as where you envision the logo being used. Many organizations have several versions of their logo to facilitate different uses. For example, if a big part of your Marketing Plan includes give-aways at trade shows, you'll want a logo that can be applied to pens or tape
measures, etc.
Your logo should be designed to reflect your brand which needs to appeal, in whole, to your target market. So, what is the foundation of your brand? What are your values? How would you describe your character? How do your customer service polices align with both of those?
So pull up the spreadsheet…
Open the spreadsheet you completed last month about your products and target markets. Here's the example we used for Internet Advertising.

We learned that Internet Advertising's primary target market is men aged 36-49.
We know that most of our customers are businesses in Western Canada. We always have some sort of direct contact with them, as opposed to them making a purchase from our website, (as will be the case for most service suppliers).
We know that price is a factor, but we also know that they come to us for the quality of our work and the resulting outcome. They want their website or marketing plan to produce results, not just look pretty, and they want their website and marketing materials to be unique, even if it takes a bit longer to produce.
Here's how our brand reflects what our customers expect of us:
Our Values are quality, innovation, collaboration and integrity. Our customers know that we value quality as much as they do. They know that our dedication to innovation will produce unique look for their brand. They know that they can get in touch with us to ask questions,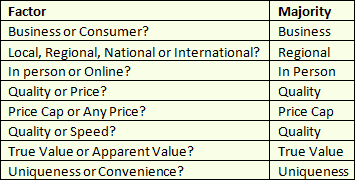 provide input and get advice; and they know that they can trust us to provide all of that for a reasonable price. Our Character is friendly but
professional. We are open, honest, and accountable for the work we produce and the way we go about it. We're available for you to call us and we'll be happy to talk to you, but we're not going to eat up your time in idle chit chat (that you later get billed for). Our Customer Service Policies reflect our values and character. We'll honestly tell you what we can produce within your budget. If you don't like the direction we're going with your project, we'll explain why we did what we did, and if you still want it changed, we'll change it. If we make a mistake, we
own up to it and fix it.

That's us in a nutshell.
So, our logo uses a unique colour that is often associated with royalty. Our icon represents you at the head of the pack, as well as our penchant for collaboration. The font is plain and easy to read, representing our efficiency and professionalism.
Our tag line reflects the positive results we foster for your business by providing Internet based marketing services.
BUT – our logo and tag line have absolutely no worth if our reputation doesn't live up to the rest of the expectations created by our brand.
In other words…
Your brand must be authentic. Everyone who represents your organization has to live and breathe your values and character, and your customer service polices need to be aligned with that brand personality. If that doesn't happen… well, I'm sure you've read about the Lululemon fiasco, among many others that have had devastating results.
Are you ready to take stock on your business's brand? You can download your Brand Worksheet here.
Keep an eye out for our December newsletter: Reputation Management – establishing policies and procedures to protect your brand and your company.
Continued:
Marketing Series Part 1 – What "Marketing" Means
Marketing Series Part 2 – Your Products, Services & Target Markets
Marketing Series Part 3 – Brand Management
Marketing Series Part 4 – Reputation Management
Marketing Series Part 5 – Customer Relations
Marketing Series Part 6 – Public Relations
Marketing Series Part 7 – Marketing Strategy
Marketing Series Part 8 – Advertising
Marketing Series Part 9 – The Components of Your Marketing Plan