SEO Buyer's Guide: To a Business Who Would Like To Generate Consistent Leads
Learn how Nick helps companies like yours generate leads and calls from Google
To the new business owner "marketing" may be seen as an important but often sidelined part of the business. To the experienced business owner "marketing is understood as the lifeblood of business.
Do you want to attract a steady stream of qualified leads?
Are you tired of seeing your competitors rank above you on Google?
Ready to make your website your most powerful marketing tool?
Let's see why SEO is often the missing key to leveling up your business in a steady and consistent way…
Most people think it's activities like…
Networking
Social Media Posting
Better branding
Get a better logo
Sending out fliers
… are the best things to focus on to grow a business and all of these are important in their own way but if we're purely looking at generating leads, nothing compares to SEO.
Here's why:
The buying process/power for consumers have shifted over the years. It has changed from companies holding all the information to the customers.
Over 90% of people begin searching for solutions to their problems ONLINE. They go to google to research a product or service before they pick up the phone or step outside.
Most business know that consumers have shifted to online and what has this caused? A MASSIVE increase in competition rushing to try and get their site ranked on Google. Followed by a massive increase in well-meaning but unqualified people offering "SEO" services.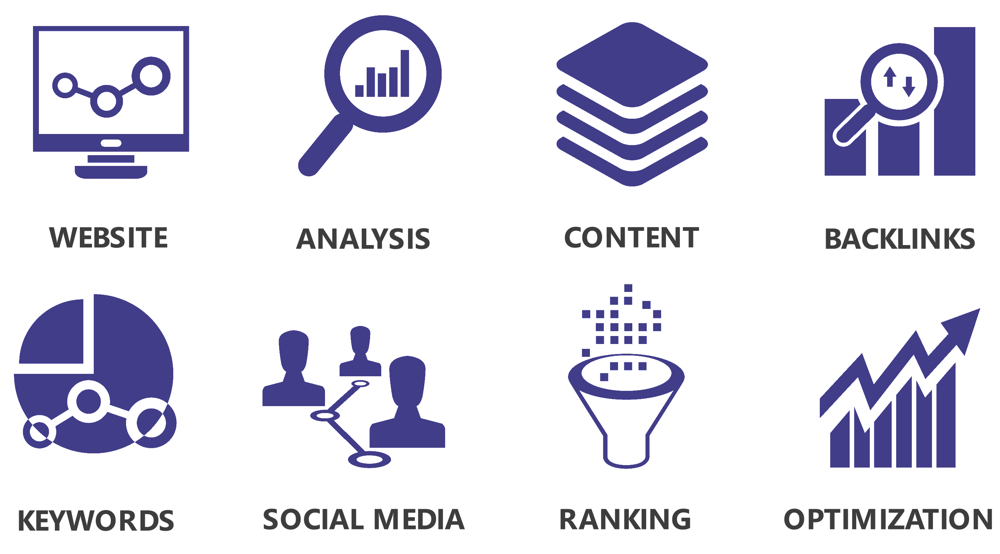 Search Engine Optimization: Getting the most valuable traffic from Google. The method, called SEO, is ranking a website on Google for valuable keywords and search phrases. This places your website in a spot where traffic flows into it resulting in increased leads that put money into your bank account.
SEO is the most profitable marketing a business can do because it generates a strong steady flow of leads. It's this steady stream of business that allows businesses to scale and grow.
SEO Case Study #1: Mountain Ridge Log Homes
Mountain Ridge Handcrafted Homes is a distinguished provider of log home kits across North America, renowned for their exceptional craftsmanship and customer service. They utilize high-quality materials like Western Red Cedar and Douglas Fir, creating unique, custom-built homes that stand out in the market.
Our collaboration with Mountain Ridge involved a comprehensive SEO strategy, which began with a thorough analysis of their competition. This allowed us to understand the industry standards and identify areas where we could give Mountain Ridge an edge.
We then implemented robust on-page and off-page SEO tactics, enhancing their website's relevance and visibility to search engines. This comprehensive approach led to increased website traffic, higher lead generation, and ultimately, more sales for Mountain Ridge.
#1 Rankings in the Organic Section for Multiple Keywords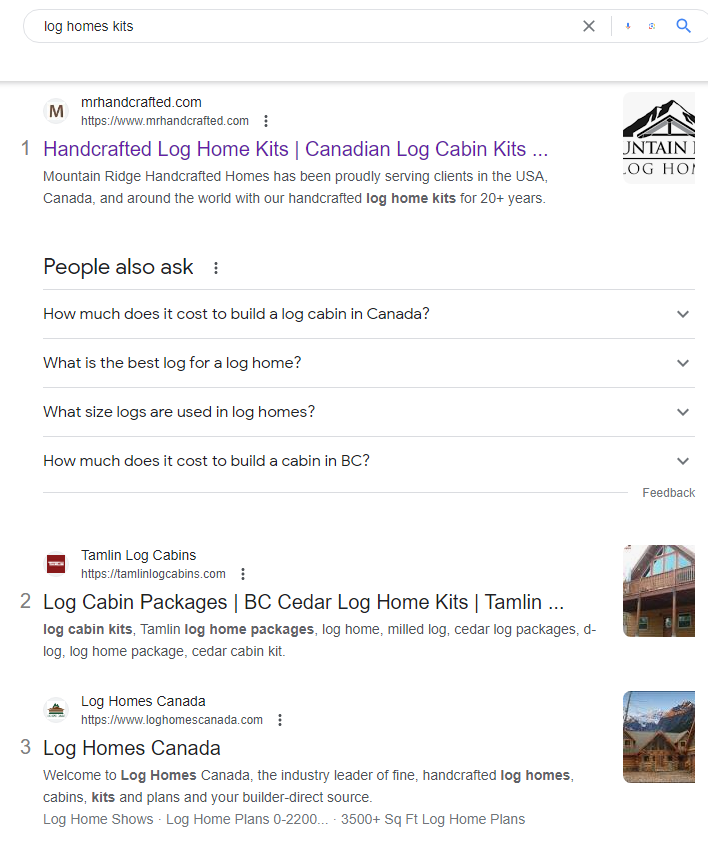 SEO Case Study #2: Quick Cool HVAC
Quick Cool is a trusted HVAC company in the Greater Vancouver Area. They realized the need to enhance their digital presence to reach a wider customer base and establish stronger brand authority. Despite their high-quality services, their online visibility was not reflecting their industry expertise and commitment to customer satisfaction.
Understanding the importance of SEO, Quick Cool engaged in a comprehensive strategy. This involved an in-depth analysis of their competitors, identifying what they lacked in their on-page and off-page SEO. The implementation of our proven process increased the rankings for Quick Cool's website and Google Maps listing (GBP) on search engines.
The result of these efforts was a significant increase in their traffic. This improvement in local search visibility drove more traffic to their business, leading to an increase in customer inquiries and service bookings.
Multiple #1 Rankings
in the Map Section and Organic Section
#1 Rankings in the Map Section for Multiple Keywords
Before / After
Move the slider to see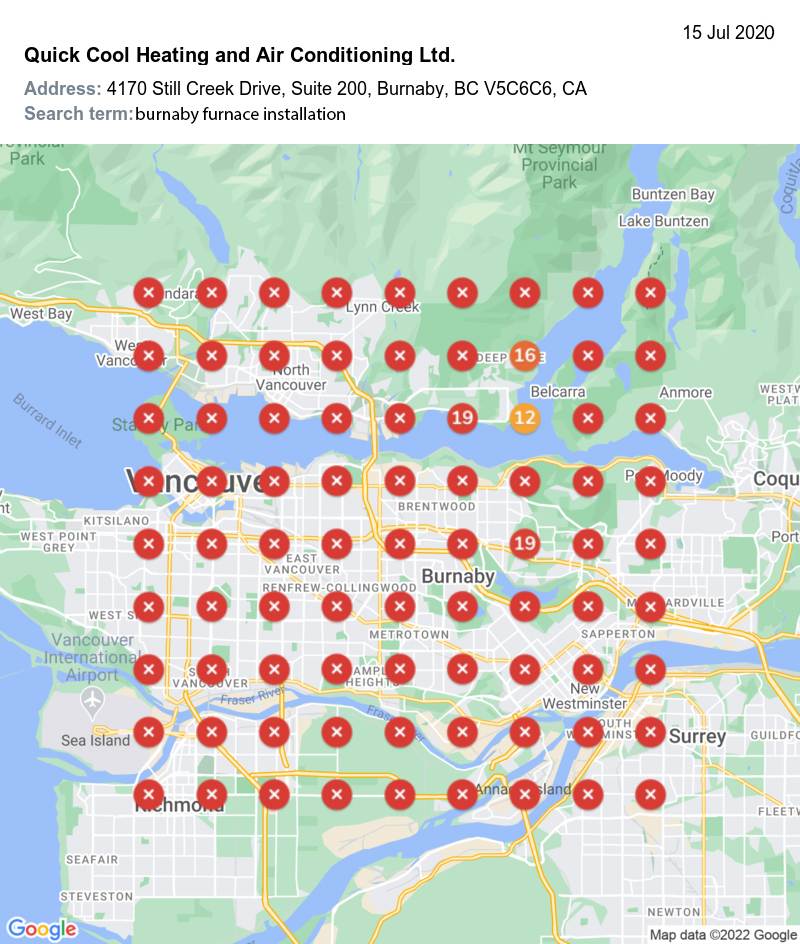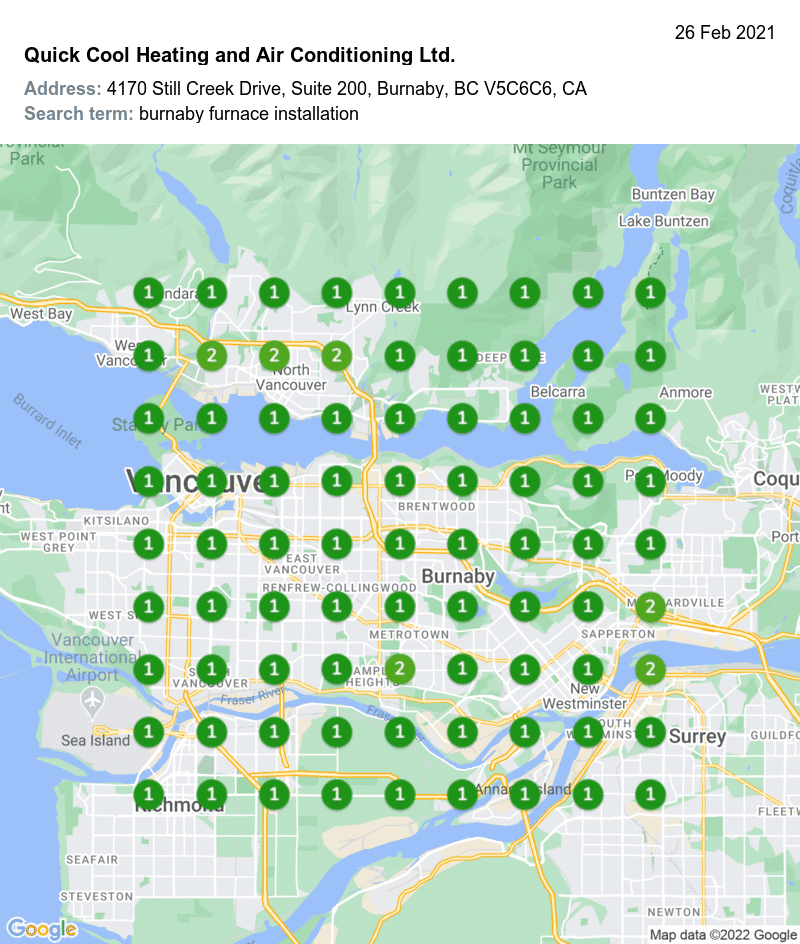 Drag ME!
#1 Rankings in the Organic Section for Multiple HVAC Keywords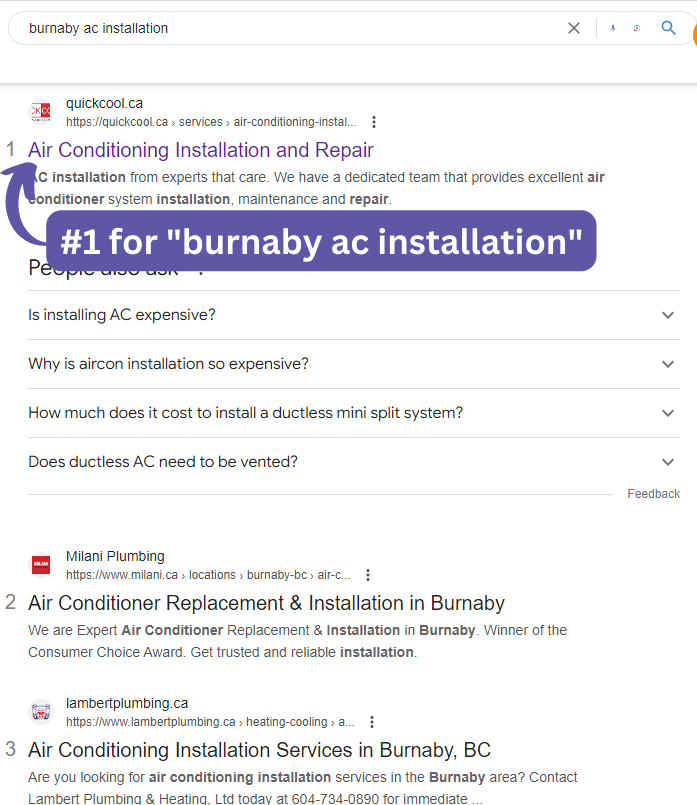 The logical progression for getting someone to do your SEO: First learn the basics and terminology. Second: seek out and find someone who has a track record and can implement SEO.
What is Search Engine Optimization?
To put it simply, SEO is an art and science rolled into one. It's like a digital marketing dance, performed in perfect harmony with Google's ever-evolving algorithms, with one goal in mind: to make your website as appealing as possible to search engines and, consequently, to your potential clients/customers.
But let's dive a little deeper, shall we?
SEO isn't about tricking Google or any other search engine. It's not about hoodwinking algorithms or finding loopholes.
No, SEO is about making your website more relevant, more user-friendly, and more valuable to your potential customers. It's about providing the best answer to the queries people put into the search box.
Imagine, for instance, that you own an HVAC company in Vancouver, and someone in your area searches Google for "ac installation in Vancouver." SEO is the wizardry that helps your business appear as a top result for that search query, effectively funnelling more traffic, more potential customers, and more business to your website.
A research study from Backlinko found that "the #1 result in Google's organic search results has an average CTR of 27.6%." Compared to a measly 6.3% at #5 and 2.4% for #10.
Google Organic CTR Breakdown by Position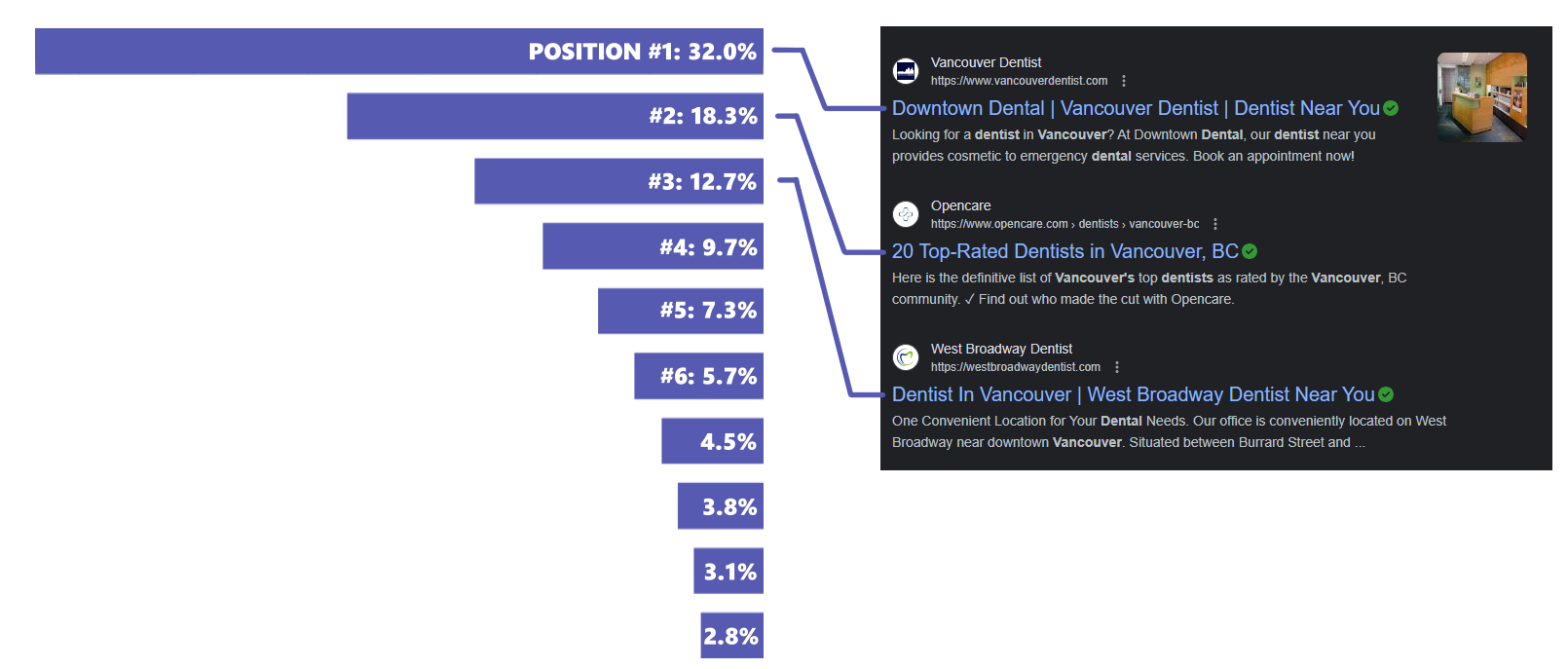 If you're passed the 2nd page of Google, forget about it. You don't exist.
SEO is the Gold Standard of Digital Marketing
There is no other marketing strategy like SEO.
It's a rock-solid investment that keeps giving. Where else can you find a marketing strategy that offers such a dazzling array of benefits?


Hyper Visibilitiy: It's like being the only food stand in the middle of a hungry crowd
Rampant Relevant Traffic: SEO doesn't just trickle visitors to your site. It opens the floodgates, pouring a torrent of potential customers your way.
Cream-of-the-Crop Leads: With SEO, you're not just getting more leads; you're getting the right ones. People primed and ready to engage with your business.
Skyrocketing Sales: More visitors plus better leads equals a big boost to your bottom line.
Lean, Mean Marketing Machine: In terms of bang for your buck, SEO hits a home run. It's a cost-effective marvel that continues to deliver, day in and day out.
Built for the Long Haul: SEO is not a flash in the pan. It's a marathon runner, bringing sustainable, long-term success to your business.
SEO solves a critical problem for businesses in that it drives the best leads to you in the most cost effective way which helps your business sustainably grow with predictable sales.
How Do You Get to the Top of Google: Our Bullet Proof iias SEO Proven Process
The 2 crucial parts of SEO that everyone talks about:
This is what EVERY SEO talks about…
The way you do On-page and Off-page SEO is important
But this is far from everything you need in a successful SEO Campaign because there are things you need to do to set yourself up for success.
Many people want to just jump into it but they're missing the most important steps.
"By failing to prepare, you are preparing to fail."
-Benjamin Franklin
You've probably heard this quote somewhere, this timeless wisdom resonates profoundly in the world of SEO. Why?…
Because, in this digital battleground where businesses vie for the crown of Google's first page, preparation isn't just an option – it's your secret weapon.
SEO is not just a task, it's a strategic mission. It requires a game plan, a roadmap, a blueprint. And it all starts with preparation.
Our preparation starts with the first three phases before we start 
Our
Proven
SEO Process That Gets RESULTS
Our first step is the Discovery/Needs Analysis. Just like any master strategist, we must understand the lay of the land, know who we are up against, and identify the tactics that will serve your business best.
During the Onboarding/Kickoff phase, we bring you into our war room. We lay out the battle plan, set the expectations, and ensure that you're familiar with the inner workings of our SEO strategy. We want you to understand that this isn't just about getting to the top of Google's ranks. It's about increasing your visibility, your leads, and ultimately, your bottom line.
Next comes the Keyword Research and Implementation phase. This is where we map out the territory, selecting the keywords that will lead your business to victory in the battle for online relevance and authority.
Then GBP Optimization is next which is crucial for local businesses and it's a key component of the strategy. Many agencies overlook the importance of tracking where you're ranking in the maps section. In our experience, the GBP for service-based businesses bring up to 70% of leads/calls.
Before getting into the main part of SEO we'll need to do some
Technical SEO
so that there aren't any bottlenecks preventing you from ranking higher. We use various tools like Google Search Console and Screaming Frog to make sure there aren't any fatal errors.
With the groundwork laid, we venture into the nitty-gritty of SEO with On-page and Off-page SEO. This is the main offensive in our strategic campaign, a calculated advance towards your business goals.
And to keep you in the loop, we provide Weekly - Monthly - Reporting. We believe in an open line of communication and transparency, so you're always informed of our progress and the state of the campaign
Many businesses rush headlong into the fray without a plan, only to face defeat. But your business won't make that mistake. Under our guidance, with preparation and a well-crafted strategy, your business will not just survive, but flourish.
How Long Does It Take To Get Results From SEO?
This is a fair question and it's asked frequently. Unfortunately there is no definitive answer. It depends on your current SEO on your website as well as your competition.
Most SEO companies hide behind the commonly held belief that "SEO takes time".
This is only partially true…
The truth is that Good SEO can be seen within few months. You just have to know where to look.
You should be able to see your websites rankings move and have some volatility as Google reconsiders where you should rank.
A better question to ask instead of "how long does it take" is…
How Do You Know If Your SEO Is Working?
There are really three metrics you look at to evaluate how SEO is going.
Within the first 3 months, you should see rankings increase. If that's done then the next thing you should see is that the organic traffic to your website is increasing. Finally, there gets to a tipping point where the right type of people are coming to your website and that causes your phone calls and leads to increase.
SEO Case Study #3: Beauty en Route
Beauty En Route is a luxury on-site makeup and hair service based in Port Moody, British Columbia. Founded by Meagan in 2018, the company was born out of a desire to provide boutique hair and makeup services for any occasion, wherever the client's adventures may take them. Their vision is to create effortless and trending styles for the modern individual, tailoring each service to enhance the natural beauty of their clients. Despite their commitment to excellence and a unique business model, Beauty En Route was facing a significant challenge. Their online visibility was low, and they were not showing up in Google search results, leading to a lack of leads and hindering their growth.
Our Approach to Solving Their Issue

To address the issue of low online visibility and lack of leads, we employed a comprehensive SEO strategy that encompassed both on-page and off-page SEO. For on-page SEO, we focused on optimizing the content of Beauty En Route's website, ensuring that it was rich in relevant keywords, had a logical structure, and provided a user-friendly experience. We also worked on improving meta descriptions, title tags, and image alt texts to make the site more accessible to search engines. For off-page SEO, we concentrated on building high-quality backlinks to increase the site's authority and credibility. We also leveraged social media platforms and other online directories to increase the brand's online presence and visibility.
The Results
Our comprehensive SEO strategy yielded impressive results for Beauty En Route. The company's website began to rank at the top of Google search results for relevant keywords, significantly increasing their online visibility. This led to a surge in organic traffic, with an increase of over 200%. The improved online presence also resulted in a substantial increase in leads, contributing to the company's growth and success. The results of our SEO efforts not only helped Beauty En Route overcome their initial challenges but also positioned them for future growth and success in the competitive beauty industry.
#1 Rankings in the Organic Section for Multiple Keywords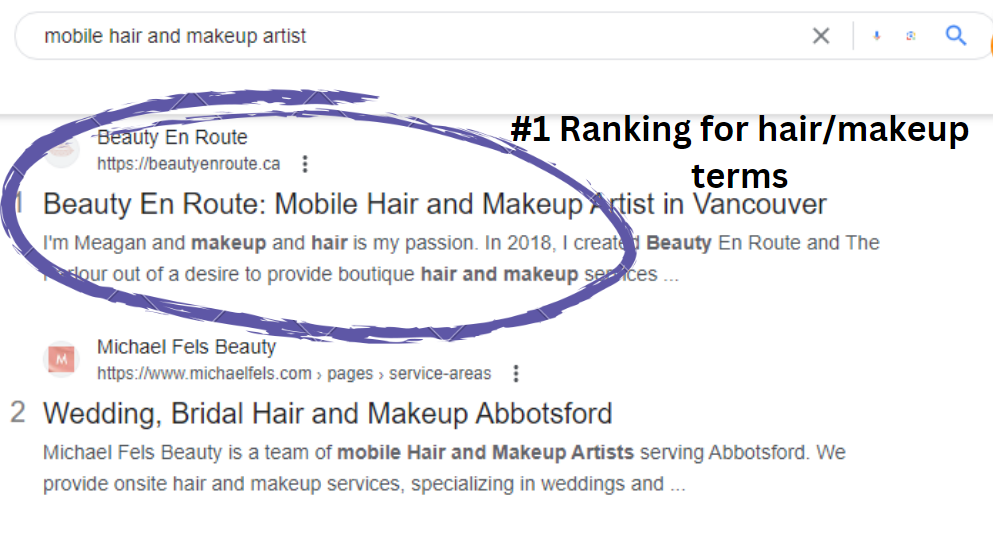 SEO has transformed countless businesses, fueling their growth and boosting their online presence.
In fact, SEO isn't just an option anymore; it's a necessity.
With the right strategy, SEO can work its magic for nearly any business, irrespective of its industry or size. Your business could be the next success story.
But how can you be sure? That's exactly what we're here to help you discover.
When you book a no-obligation demo with us, you're not just scheduling a call, you're opening the door to a world of potential. We'll dive into an analysis of your business, exploring your current online presence, your industry, and your competitors. We'll give you an honest assessment of how SEO could elevate your business and outshine the competition.
But we don't stop at potential. During this demo, we'll share valuable insights on your unique SEO opportunities and draft a roadmap to improved rankings, more organic traffic, and increased leads. You'll get a clear vision of how SEO can catapult your business towards its goals, and beyond.
With us, it's not just about selling a service; it's about partnering with you on your journey to unparalleled growth. It's about unveiling the untapped potential that lies within your SEO strategy and empowering you to seize it.
So, are you ready to unlock the door to your business's potential? Book a demo with us today and witness the transformative power of strategic SEO. Remember, it's not just a call, it's a stepping stone towards unprecedented growth for your business.