How can a business leverage social networking effectively?
In order to maximize your presence on the social Web you must take advantage of social networks in all stages of the purchase funnel, from awareness to learning to buying to loyalty.
It is short-sighted to focus only on advertising in social networks without a firm understanding of all the ways you can enhance a marketing plan, including branding, direct marketing and lead generation, e-commerce and customer relations.
Consumers across all age groups use social networks, and one-half of social network users visit at least once per day. They interact with companies and brands not only by visiting brand pages but by turning to their social network friends-and even strangers-for opinions on products and services. To be successful, marketers must use multiple paths and techniques to engage consumers.
Survey after survey reports that consumers consider word-of-mouth more credible than nearly any other kind of marketing, and today over 25 million US adults regularly share advice on products or services online.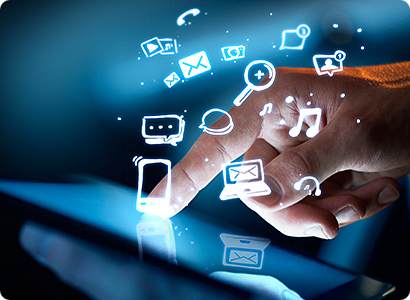 Social MediaWhat are the primary online social networks?
Facebook
Twitter
LinkedIn
MySpace
Google Plus+
Ways you can make a Facebook business page great
Show up to date sales and specials giving your Facebook followers an information advantage
Offer online printable coupons
Showcase new or upcoming products and services
Send people to your website
Advertise events
Showcase contests
Tell stories
Let people know about the charities you support
Inform people
Look amazing by enlisting the help of a graphic artist
Show "How To" videos
Always be relevant
Send people to and ecommerce page when showcasing a product
How do we measure success and ROI for social networking?
Building brand awareness by looking at unique Web site visitors, page views and fan/follower accounts.
Increasing engagement with your brand by looking at comments, re-Tweets and time spent on the Web site.
Increasing your influence by tracking third party mentions and links.
Action outcomes by tracking conversions and sign-up rates and asking customers how they connected to your business.
Likes and re-Tweets to your messages.
What are important goals in a social networking campaign?
Attention: Getting and keeping attention develops ongoing awareness of your brand, products and services.
Visibility: To help your businesses and Web site maintain crucial visibility in the search engines.
Intelligence: Listen well, and you can develop a potent customer feedback loop.
Opportunity: Being present means you won't miss opportunities to connect, service and delight your customers.
How do I effectively build a brand on a social network?
Be different
Do something you love
Work with people you care about
Look for niches and edges to work in
Spend time listening to customers
Show; don't tell
Be generous; share your insights
Stop worrying about the competition
Fulfill the unexpressed desires of your clients
Build relationships
Look for opportunities to interact
Deliver value
Do something unexpected
Speak human
Surprise
Delight
Connect people to each other
Compel clients to say, "I love this!"
Compel people to say, "I love this, who did it?
Be Yourself – A brand is a voice and a product is a souvenir.
What are the do's of social networking?
Keep it positive.
Use the social network to bring people to your website where you can control the content not the other way around.
Prepare your website before you send people to it.
Invite your supporters to be your first friends.
Post your most viral content.
Provide incentives such as discounts.
Test the waters before you jump in. Ask your friends opinions.
Maintain and update information regularly.
Monitor and respond regularly.
Create discussions and dialogue.
Create a realistic budget of time and money.
What are the don'ts of social networking?
Don't be negative.
Don't get into a mud-slinging fight if you get unfair comments.
Don't leave your social page unattended.
Don't usurp your website with your social page.
Don't respond to negative posts in an untactful way.
It's a lot to think about. The big advantage of a social media is that time and geography are no longer constraints in your social world.
Paul Nicholson
Senior Media Designer