Want your share of traffic from the billions of daily Google searches?
Experience success with a search engine optimized website.
Search Engine Optimization or SEO, is an investment in your most important marketing tool – your website. Without SEO, the best customer acquisition method available, search results, is going to send your potential customers, and even some of your existing customers, to someone else.
How can we be so confident about this? Because we build websites and we optimize websites and we've seen what happens when we do, or don't, do both.
Consider our own website. That's where you are right now. And how did you get here? Google search results. Having a great website isn't enough. You have to get potential customers to that website, and the very best way to do that is to get on the first page of search results. 
We were one of the first internet marketing agencies in the world. We've watched Google capture the search market and we've kept up with every change they've made to their algorithms. We research and test our strategies extensively before putting them to use on a Vancouver client's site. Our SEO team is focused on search engine optimization strategies that work with Google's current algorithms. 
Question:
What Is The Single Most Important Thing a Business Needs?
What do those strategies entail? Well, some of those are our secret, but here's what any good SEO provider should tell you:
The goal of SEO is to get your website noticed by your target market. Getting on the first page of results is pointless if those results aren't directly relevant to your business or attractive to your market.
Identifying and using the best keywords for your target market is important, BUT it's only one part of the process.
Google reviews all of your site content and values quality writing, quality graphics, and relevancy.
You need a technically solid site structure and appropriate components to be ranked in the top results for any keywords.

 
Vancouver is the largest city in British Columbia, with a population of almost 700,000. It's also surrounded by several other cities that aren't that far away. That's a lot of competition for any business.
The fact that almost every shopper for goods or services starts by doing a Google search, means that your website is now competing globally for a spot on that coveted first page of results.
As an example, here's what happens when you search for "cheesecake Vancouver."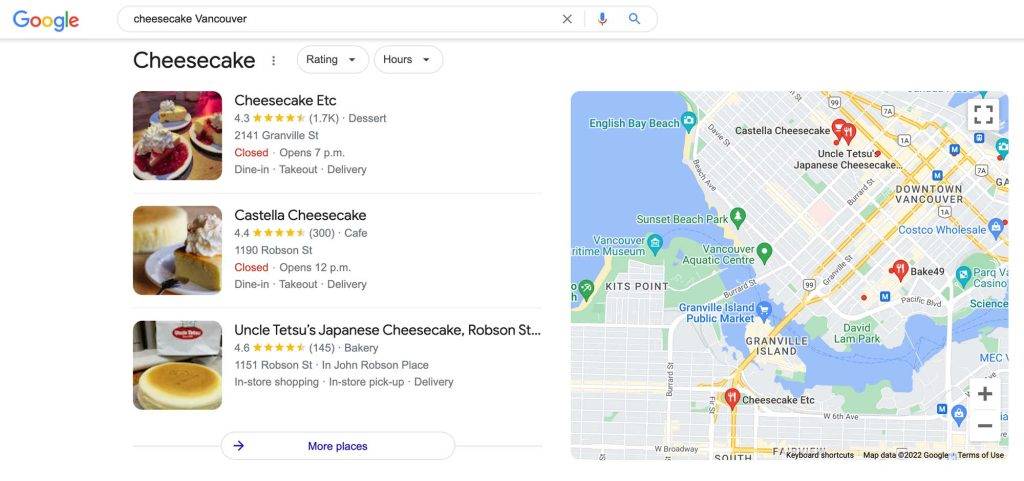 5,500,000 results! But, here's what's on the first page:
Three places that sell cheesecake, shown on the mapped results;
Three sites discussing the best cheesecake in Vancouver;
Two directories; and,
Two organic listings that are also on the map.
That means only three companies are on the first page of results.
We are a BC company and we have an in-house SEO team. SEO is an ongoing process because the situation changes frequently. Local competitors come and go, new online shops pop up, Google changes their algorithms; so, we keep very close track of how your site is doing using analytics, Google Search Console, Google Data Studio, and many other proprietary tools. We make adjustments when needed to keep you on that first page of Vancouver results.
We get the best SEO results and you can too.
Chances are, you landed on this page because our website ranked at or near the top when you searched for "SEO Vancouver" or something similar, despite the fact that "SEO" is one of the most competitive keywords in Vancouver on Google. It's always best to hire a professional who is able to demonstrate their expertise. The fact that you're on this page demonstrates our expertise in SEO.
Let's Get to The
Bottom Line
When you hire the best SEO agency (that's us!) you will get more customers.
That's what it's all about; more customers and more profits. When you start showing up on the first page of search results, it's almost impossible not to make money.
We'll create or revise all of the technical aspects of your site to optimize the back end. We'll also ensure that your content is optimized specifically for your target audience.
We have seen the results of our SEO work skyrocket our client's sales by 10-fold. We can help you get more business for your Vancouver company through search engine optimization.
If you are serious about improving your visibility in search engines and want to start getting results right away, please fill out our discovery form. We'll use the information you provide to prepare a quote for you.
We stand apart from other SEO agencies in Vancouver because everything is in-house.
We do all the technical
work ourselves.
We do all the SEO
work ourselves.
We do all the design
work ourselves.