Case Study:
Northwest Stoves
In the mid 1970's, a young Powell River, BC accountant named Wayne Rourke began working with a Fisher Stove dealer in his home town. The time he spent there got him fascinated with the wood stove industry. He eventually purchased the company in 1977 and ran it from the basement of the city's old post office. Fisher Stoves relocated to North Vancouver where it remained for several years. While in that location, Wayne hired Mike Harstone and Dan Kosovic, who are both still with the company today. The company's focus changed from being a manufacturer to one which centered around distribution and it was during this period that Fisher became Northwest Stoves.
Technologies Used: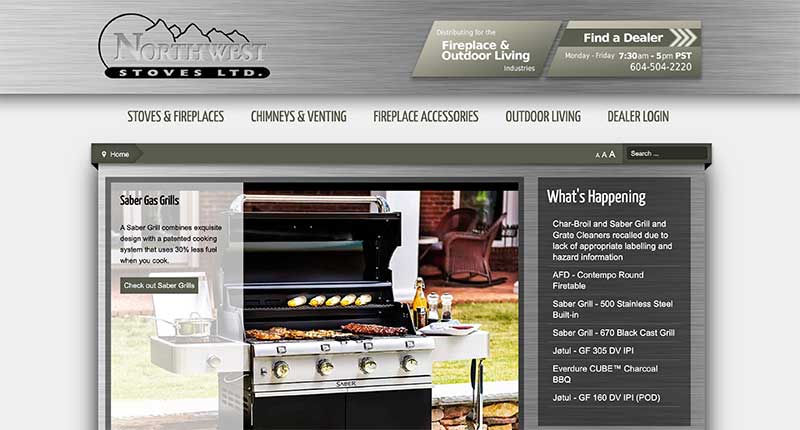 ---
Web Services Required:
Digital Marketing
Graphic Design
Website Design
Joomla Development
Hosting
---
About this project
Pacific Energy have been building wood and gas products in Duncan, BC for as long as Northwest Stoves has been in business. We distribute these stoves within BC (excluding Vancouver Island), the Yukon and Southern Alberta. Green Mountain Pellet Grills have brought cooking with pellets to the main stream! Greem Mountain Grills are the top-of-the-line, the best-of-the-best - but not the highest in price. With retail stores across western Canada, GMG offers premium grills at affordable prices, producing some of the best tasting food you can eat. RSF Energy are beautiful and efficient wood burning fireplaces built in Quebec. RSF is distributed in BC & the Yukon. Marquis Collection by Kingsman contain collections of traditional and contemporary gas burning fireplaces, stoves and inserts manufactured in Winnipeg, Manitoba. We distribute these products throughout BC (excluding the Okanagan and Kootenays). Saber Gas Grills have a patented cooking system that brings the best flavour out of your food when you grill. An exciting line of gas grills that have something for everyone. Distributed throughout Western Canada.
Fully Responsive