Case Study:
Prima Power Systems
Prima Power Systems is a Canadian provider of custom power generation solutions.  Their product range includes diesel, natural gas, and propane-powered equipment ranging from 6 kW to 5,000 kW.  Their sales team are all certified electricians who can help guide you through the buying experience.
A Turnkey Approach
From consultation and design to install and commissioning.

Technologies Used: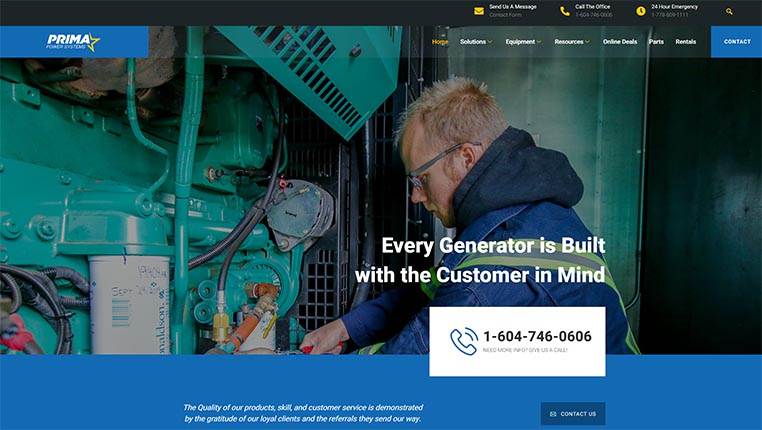 ---
Services Provided:
Digital Marketing
Search Engine Optimization (SEO)
Search Engine Marketing (SEM)
Shopping/ E-commerce
Graphic Design
Website Design
Web Content Writing
Keyword Research
Wordpress Develpment
Custom Development
Hosting
---
About this project
Our goal with Prima Power Systems is to grow their market share in Western Canada. Increase annual sales to $50,000,000 and beyond. We started on their web design because that is the foundation for all their future marketing. Once we had their website up and running we immediately started working on their Google Ads Campaigns and Search Engine Optimization. Both SEM and SEO bring in different segments of their targeted audience.
---
Objectives:
Redesign website to appeal to a broader audience of commercial, industrial, residential and recreational customers.

Provide research and digital marketing services to grow market share.

Ongoing support to maintain, monitor and improve digital performance.